Our Commitment To Safety
A project can only be labeled a success if it's safely completed. Our goal in everything we do is to provide a safe work environment for all those involved, from our employees to the contractors we partner with, all the way to our clients.
That's why we follow strict guidelines and procedures established to eliminate the risk of on-site incidents. From the smallest task to the largest undertaking, every safety precaution is clearly outlined and monitored by members of the icon team. These time-tested guidelines are what has allowed icon Mechanical to be recognized for our achievements in safety year after year.
Pictured below: icon recently received the Safety Excellence Award from the AGCMO for Zero Lost Work Days in 2021.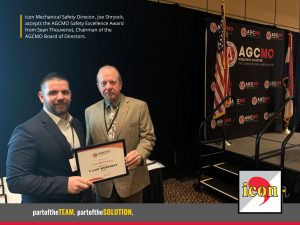 Below Video: icon Founder, Mike Bieg, explains the importance of safety at icon Mechanical.