Solar Decathlon 2017: icon Assists Team WashU with CRETE House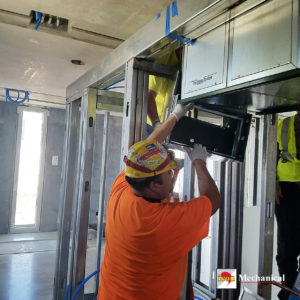 Jesse Ranken and Don Holland (Sheet Metal Workers, Local #36) installing custom fabricated ductwork for icon Mechanical in a prototype all-concrete house. The 'CRETE House,' was built by a team of students from Washington University St. Louis' North Campus for the 2017 Solar Decathlon competition sponsored by the US Department of Energy. The contest entries will be judged in ten categories, a few of which include: Engineering, Innovation and Energy Efficiency.
icon Mechanical's sheet metal fabrication shop is an 18,000 SF state-of-the-art facility, which utilizes the most innovative technology in the industry. Our highly skilled craftsman can produce ductwork for large-scale, fast paced projects on time with outstanding quality—there is no job too big or too small.
Students from Washington University St. Louis have been working on the solar-powered CRETE House for over two years, and will be deconstructing the modular house and shipping it to Denver, CO for the competition, where it will be reassembled. icon Mechanical is proud to be part of the team and part of the solution for the 2017 Solar Decathlon—Go Team WashU! 
For more on icon Mechanical's state-of-the-art facilities, work and prefabrication capabilities, visit: https://www.iconmech.com/capabilities/
#solardecathlon #cretehouse #SD2017 #iconMech #partoftheteam #partofthesolution