icon Earns Innovation Award from IPI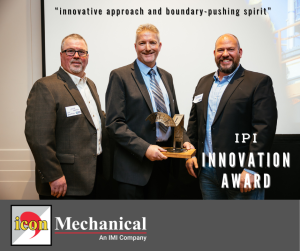 icon Mechanical Earns Top National Innovation Honor from Industrial Project Innovation
Award highlights icon's innovative approaches to tools, systems, and project execution
Highlights:
icon's innovation approach endorsed by top construction industry OPM
Award recognizes icon's performance on recent new construction of Boeing drone plant as well as preconstruction efforts on a greenfield EV battery plant
IPI innovation award furthers icon's quest to be recognized as world-class mechanical contractor
Award commissioned and sculpted to convey icon's "innovative, boundary-pushing spirit"
Granite City, IL (October 31, 2023) icon Mechanical, one of the largest, full-service design build mechanical contractors in the Midwest, has been awarded the prestigious Innovation Award from Industrial Project Innovation (IPI). IPI is an industry-leading owner's project management (OPM) firm known for ensuring its client's projects are constructed with the highest industry standards, from design to turnover.
icon earned the national award for "showing exceptional aptitude for innovatively approaching tools, systems, and project execution" in conjunction with the contractor's performance on the new Boeing drone facility manufacturing plant in Mascoutah, IL.  IPI presented icon with the award during a reception earlier this month at IPI headquarters in Greenville, SC.
"This is a true honor for icon," said Alan Bolt, icon Mechanical Chief Operating Officer. "We consistently strive to approach every project with the end in mind which ultimately positions us to better identify innovative methods for delivering a project that exceeds customer and owner expectations in quality, value, and longevity."
Bolt said being recognized by IPI – one of the construction industry's most respected owner's representative – is an especially notable third-party endorsement given IPI's high-standards in selecting and recommending project partners.
icon's award-winning work on the 291,000 square-foot Boeing facility entailed design, fabrication and installation of mechanical systems and components serving the plant's main assembly building, visitor's center, central utility plant, paint shop, fuel building and hanger flight operations building. icon's innovative approach in route to delivering this scope enabled Boeing to realize increased savings in time and money throughout the build. Equally impressive was icon's in-house start-up and commissioning team who received an "industry-best" endorsement from the owner's onsite management team.
"Our mission is to be a world-class provider of mechanical systems, bringing value to the projects where we are entrusted to engage our expertise," Bolt said. "When we receive this type of national recognition from a firm such as IPI, it is evidence that the industry is taking notice and serves as reassurance that our ongoing investment in people and processes continues to set us apart."
The sculpture presented in conjunction with the innovation-based award was commissioned by IPI and designed and created by Greenville artist, Yuri Tsuzuki. The focal point of the one-of-a-kind piece is a ladder, that according to IPI, conveys "icon's creative leaps taken to innovate within the industry" and further stating, "… icon's innovative spirit and commitment to pushing boundaries is embodied in this award."
About icon Mechanical
icon Mechanical is a full-service mechanical contractor and construction firm specializing in the design, fabrication, installation, modification and ongoing service of process piping, power piping, industrial ventilation, and commercial HVAC. The company was founded in 1995 and is headquartered in Granite City, IL, with additional offices in St. Louis, MO and Nashville, TN.
For more information, please contact:
Tom Evans
Director of Market Development