icon Mechanical Breaks Ground on Heavy Metal Industrial Fabrication Shop at Granite City, IL Headquarters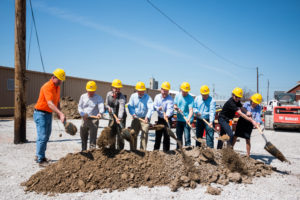 GRANITE CITY, IL [April 12, 2018] — utilizing the gorgeous spring weather, more nearly 70 attendees gathered to commemorate the groundbreaking for icon Mechanical's newest building, a 14,400 SF 'Heavy Metal' industrial prefabrication and modularization facility. The newest building at icon's Granite City, IL headquarters joins nearly 125,000 SF of prefabrication, assembly and modularization spaces and is scheduled to be completed in July.
"This expansion has always been a part of our strategic plan for growth," stated Steve Faust, icon's Business Development/Diversity Coordinator. "Understanding the need for off-site construction, prefabrication and modularization as the future of construction is key. Project schedules are constantly being compressed, and in order to meet accelerated schedules, we have to be able to build in advance through coordination and collaboration with all other subcontractors on site—this new building will give us even more capability to do just that."
With the anticipated growth of the industrial market, icon is looking to support this reinvigoration with producing heavier gauge, thicker/industrial metals. With the completion of the Heavy Metal facility, icon will continue producing high-end prefabricated duct, now on an even larger scale.
"It's exciting to see the continued growth of icon.  Over the past few years we have completed several industrial and process sheetmetal projects for GM, Oak Ridge National Laboratory and Toyota/Bodine.  This new facility will greatly increase our capabilities and allow us to expand the services we are able to provide to current and new clients," said Jeff Rush, icon President.
The new facility will house additional upgrades unique to the rest of the headquarters' shops. Two 10-ton overhead cranes will allow for large grade industrial materials and modules to be moved around with ease. This facility will also be laid out to handle raw material up to 40 foot in length.
Aside from a variety of industrial capacity shears, press breaks, seam welders, and a second plasma cutter, the space will also include an additi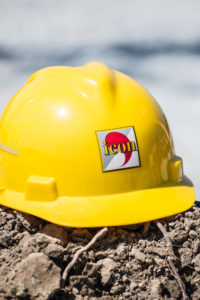 onal paint booth, allowing for an even higher quality control on the painting of our prefabricated skids.  Both the overhead cranes and task specific work stations in this facility will limit stress and strain on employees, tradesmen and women, allowing icon to provide larger prefabrications in a more efficient manner.
"This new facility will really diversify what we do in the sheetmetal division of icon," stated Bob Belobraydic, icon's Sheet Metal Fabrication Shop Manager and Member of Sheetmetal Local 268. "The biggest impact of our new building addition is icon's capacity to continue to take our company to the next level. We could not have grown to this magnitude over the past 23 years without having the capacity available," stated Jeff Smith, icon CFO.
Civil Engineering and Land Surveying is being provided by Granite City's own Juneau Associates, Inc., P.C., and the facility is being erected under the direction of BBi Constructors, of St. Peters, MO. Bieg Plumbing is providing plumbing and sanitation work, and Guarantee Electric is providing all electrical services.
icon Mechanical is a full-service mechanical engineering and construction firm specializing in the design, fabrication, installation, modification and ongoing service of process piping, industrial ventilation and commercial HVAC. Recently named 2017's second largest mechanical contractor in the St. Louis region by the St. Louis Business Journal, icon continues to be a forerunner of innovation, prefabrication, engineering design and construction.